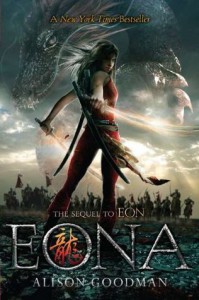 Oh my word you guys--this book was
awesome!
I can't remember the last time I've come across a duology...a stand alone once in a while, and many a series, but almost never a duology. I am not happy that I don't get anything else from this world though, so I would have welcomed a series, or in the very least a damn epilogue!
So what's got me so excited you ask? This story is all about power; getting it, using it, fighting against it, accepting it, and learning what it means to own your own inherent force.
Continuing in the same vein as Eon, is Eona learning how to take pride in her power as a female. Females in this world as second class citizens at best, and to be a dragoneye female is unheard of, and blasphemous. Eona changes everything by being the single most important person in the fight for the land and the crown, er, pearl.
There were a few things that grated on my nerves though. I was getting so tired of listening to Ryko's constant whining!! Oh my word man grow some balls and just
quit!
I didn't even really understand where his massive animosity was coming from usually. I get that when she put his nose to the dirt (ouch Eona...ouch) that he would be furious, but when Kygo threatened him he had no business being all pissy about it. You do what your emperor tells you in this world! I would have happily seen the last of him early on in this book. I also started liking Ido funny enough, and I was pretty disappointed with how that turned out. Dela also managed to get on my nerves a few times, but it was always when it involved that whiner Ryko, otherwise I still love her!
I'm really struggling to get this review where I want it, and I'm just going to step away for a while and then maybe it will be easier to explain how awesome I thought this book was. Sorry, it's my inability to form a decent review that's stopping me, not the book at all.